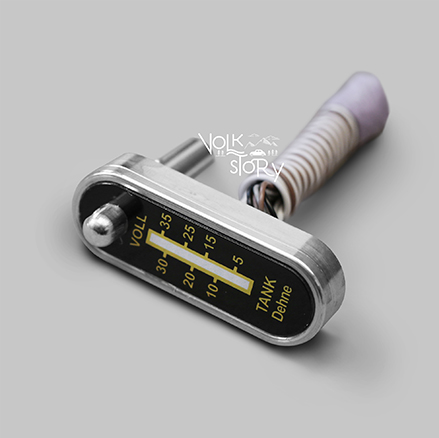 DEHNE DIGITAL FUEL GAUGE
฿ 0.00



Fit only with long tube electric fuel sending unit only
Please see the explaination below.
As an entity the "Dehne Company" has long since vanished.
Buts its simplistic and much revered innovation lives on.
Introducing the new, rejuvenated 21st century face of this
renowned device! Our "Dehne" digital fuel gauge is machined
from 6061 aluminum, compatible with both 6 and 12 volt
applications,as well as with Karmann Ghia and Pre '73 Type 2
tubed tank sendingunits and Type 1 level style electric fuel
sending unit. Give your classicor dubbed machine a hint of
modernity while still retaining its "Bug" integrity.
Sending unit option :
1. Beetle from 1950~1960, 11" long Electric VDO sending
unit : 224-228
2. Standard Beetle from 1961~1977: Use Tube Style
Electric Fuel Sending Unit from Karmann Ghia or Split Window Bus
3. 1968~1973 Type 2 BUS Tube style Electric Fuel Sending Unit.
For :
Beetle 50-77
Bus 68-73
www.volkstory.com
Line : @volkstorybkk
https://line.me/R/ti/p/%40volkstorybkk
Email : volkstorybkk@gmail.com