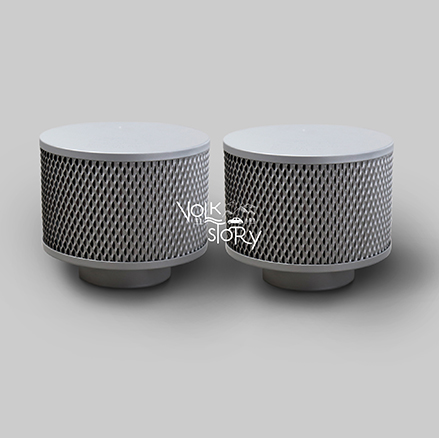 FLAT4 MESH AIR CLEANER KIT FOR SOLEX EIS & ZENITH 32NDIX
฿ 0.00
A long-awaited EMPI SOLEX / KADRON carburettor has appeared in the mesh type
VINTAGE original air cleaner series that reveals high performance engines such as
PORSCHE of the 60 's' 70' s!
Diamond pattern mesh cover and matte silver paint create a VINTAGE HIGH
PERFORMANCEatmosphere like the OKRASA engine. The attached element
can be used repeatedly by disassembling,washing, and it can send clean air to
the carburetor permanently.
Also, by rotating the top panel, the cover is easily detached, and the stay welded
to the bottom plateadopts H / D type which is resistant to warping and bending.
You can tighten the top panel securelyand horizontally. Of course, the top panel
faithfully reproduces the original made by KNECHT,the FLAT 4 logo is added to
the diamond logo according to KNECHT, and further the letters are written
in German / English. It is our item of sticking to detail.
You can also use it for ZENITH 32NDIX carburettor of PORSCHE 356.
For :
Beetle
ฺBus
Karmann Ghia
Porsche 356
www.volkstory.com
Line : @volkstorybkk
https://line.me/R/ti/p/%40volkstorybkk
Email : volkstorybkk@gmail.com