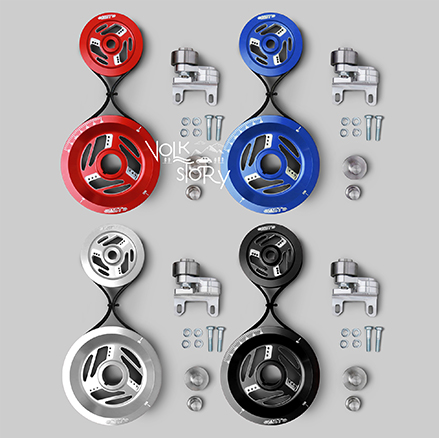 SUPERTINE PULLEY SYSTEM RED RAPTOR-STD
฿ 0.00
The pulleys are CNC machined from 6061-T6 aircraft quality aluminum to exacting
tolerances.

Reduce Belt slip!
Operate Smoother!
Run Quieter!
For :
Beetle
Bus
The MST Serpentine Pulley System is famous for reliability, consistency, and overall quality
–all while making your engine look amazing! This system delivers a slight horsepower
improvement by reducing belt slip and delivering more cooling to your engine than the standard
V-belt setup. You will love how much quieter your engine runs, too!
Available in a variety of anodized colors including, Black, Blue, Silver, Red, and
Lime Green.Get your MST Raptor Serpentine System today and match it up with our
other greatproducts to get that custom look across your entire engine.
Your Raptor Serpentine Pulley System Kit includes:
Crank Pulley (with CNC-Machined Timing Marks)Alternator/Generator PulleyIdler Bracket
Assembly with BearingCustom Stainless Steel Crank Bolt and Alternator/Generator
Nut4-RibBeltMounting HardwareSand SealBillet Aluminum Sand Seal Adapter with
HardwareInstallation instructions
www.volkstory.com
Line : @volkstorybkk
https://line.me/R/ti/p/%40volkstorybkk
Email : volkstorybkk@gmail.com